Workers Compensation in Walnut Creek
What Is Workers Compensation?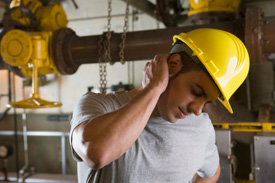 Workers compensation is a form of insurance providing wage replacement and medical benefits to employees injured in the course of employment.
Here are some of the most common causes of injury:
Assaults or violent acts
Bodily reactions: caused when one slips or trips without falling
Fall to a lower level: ladders, rooftops, stairways
Highway incident
Machinery accident
Overexertion (pulling, lifting, pushing, holding, carrying or throwing)
Repetitive motion
Slips, trips and falls
Struck against an object
Struck by an object
Dr. Gazdar Is a Qualified Medical Evaluator (Q.M.E)
Dr. Gazdar has had extensive experience in the area of personal injury for more than 25 years and holds a Qualified Medical Evaluator degree, which makes him very familiar with the rules governing workers' compensation benefits.
He knows how to get a case moving along, and he knows how to get it settled!
Not only is Dr. Gazdar very good at helping people get well, but he also helps them to successfully navigate the complicated workers' compensation system through:
Professional and detailed progress reports to insurance companies
The willingness to work directly with attorneys if legal counsel has been sought
A direct billing system to insurance companies with no out-of-pocket expense for the patient

Have you experienced an on-the-job injury?
For help navigating workers' compensation in Walnut Creek, contact us at (925) 939-2225 today.