About John Muir Chiropractic Center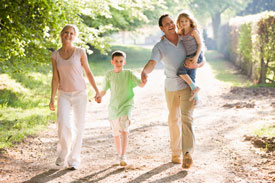 Inspiration from History
Our Walnut Creek office has been in existence since 1990, and the practice name was intended as a nod toward the well-known local hero John Muir. This revered environmentalist was responsible for the founding of Yosemite National Park, and his legacy contributed to a surge of popularity in naturalism.
Because the chiropractic principle of seeking the natural pathway to health is so aligned with the principles that John Muir held dear, we wanted to honor these shared philosophies in our clinic name.
From Elite Athletes to Grandmothers
Our office is located in the middle of downtown Walnut Creek in the professional building called Doctor's Park. We feature very early morning appointments for the convenience of our practice members in the building trades. We also warmly welcome patients of all ages and all walks of life with a variety of needs and health goals, including:

No matter what the problem, we can help you get back on the road to wellness.
Let's get started! Contact John Muir Chiropractic Center at (925) 939-2225 today.